STORYTELLING 'ROUND THE CAMPFIRE
Congratulations to all the scouts who participated in our "Storytelling 'round the Campfire" on Monday night, and Thank You to all the families who came! I think we had at least 50 people there!
Lenny's dad is lending us a plug-in fireplace-type fire. Hidden behind some sort of resin logs and flames is a red lightbulb and a rotating cylinder made out of something like tin foil. The light on the foil makes it look like the flames are dancing. It's really cool. We put some real sticks in front of it, and then a circle of stones (thanks to Miss Allio!) around the whole thing.
Our awesome custodians removed the tables from the cafeteria and set up a double-row semicircle of 45 chairs around the campfire. Within the semi-circle, in front of the fire, we spread out blankets for the kids. Thank you to our custodians!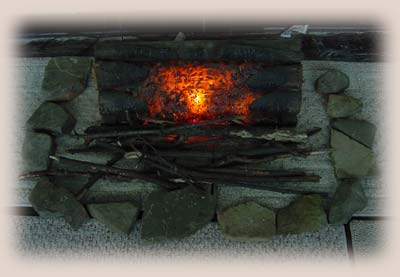 During our campfire, Corinne and her daughter worked in the kitchen to make s'mores and hot chocolate for everyone. Thank you to them!
Ms. Spak, co-teacher (scout leader) of Camp Linus, brought all the necessities: fly swatter, bug spray, binoculars, camping hat, flashlights, books of scary stories, and camping chairs!
Josh's grown-up, Art, brought his guitar and led some singing 'round the campfire! After singing "Puff the Magic Dragon" and "B-I-N-G-O," our first storyteller took the marshmallow stick and sat in the camp chair by the campfire. After sharing her story, she moved back to her place on the blankets, gave the marshmallow stick to her neighbor, and then that person got up to sit in the camp chair and tell a story.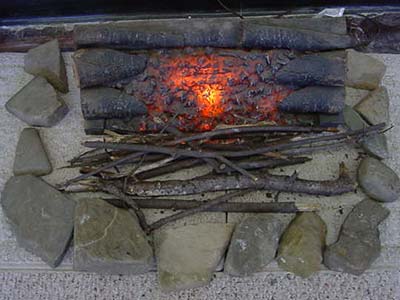 When half of the scouts had told their stories, Art led us in another song, and then the rest of the scouts shared. After one last song, we all got up to enjoy some s'mores and hot chocolate, and visit with one another. It was a lot of fun.
It is important to connect school and home as much as possible, and it was wonderful how proud the students were to have their families there - including parents, grandparents, aunts, uncles, and siblings!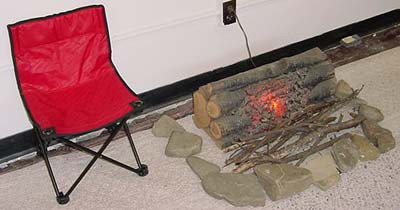 The "campfire," on loan for a year, now resides in the Camp Linus classroom where the scouts share with each other the stories that they write.
Click on the

to find out more.