THIRD GRADE INVITED TO AGM CONCERT
STARRING THE HILL BROTHERS!
Thanks to the PTA, the Hill Brothers came to AGM! After inviting us all on a "musical adventure to respect and responsibility" by singing "Come on in to this world of treating ourselves well!"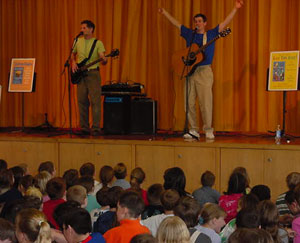 Jeff and Dave soon had everyone laughing and participating in their songs about being respectful, responsible, and team players. Their main message was that it is important for us to treat ourselves and others well.
For their first song, they asked us: "If I was going to be respectful, what would I do?" For their song about teamwork, Dave had us play a little joke on Jeff. Every time Jeff said the word "up," we stood up. Every time he said the word "down," we sat down!
In their song about responsibility, they had some pretty silly examples about not having their homework done! There was the puppy who stood 6 foot 4 as he smiled and burped. There was the homework that needed to be used as a diaper for the 1-year-old sister who had just run out of diapers. And of course, there was the giant alien spaceship with a lazer beam that zapped up their homework into outer space! For every one of their excuses, the students (in the role of the teacher) all shouted, "I don't think so!" To be responsible, we learned that "making up lies and alibis is not the thing to do!"
To learn how we can get more respect, we learned that we need to give more respect – as we danced "The Respect Twist."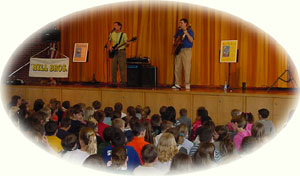 Special Note for Kids Only:
Want to win an autographed copy of their tape? Log onto their website at: http://www.hillbrothers.net
Click on "Kids Only." Type in your favorite book and why you like it. Each month they pick one student from those who have written about their favorite book, and mail an autographed tape to them at their school!