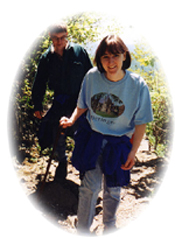 My name is Miss Camp and I will be your teacher this year. Last year I taught school in Alaska. Alaska is very different from New York. I lived in a town that you can only get to by plane or boat because there are no roads that lead to it. It was fun to ride on the boats because whales would come up out of the water and surprise us! Some of my favorite adventures in Alaska included flying around Mount McKinley (the tallest mountain in North America), walking on a glacier, flying in planes that land on water, deep sea fishing, and kayaking. I also enjoyed looking out my window and watching bears walk by!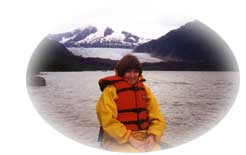 Something I learned in Alaska is that the people there like to tell "tall tales," particularly about the size of fish they catch. Do you know what a tall tale is? We will be writing some this year! When an Alaskan is done telling their story, they say, "And that's the truth, Cheechako." I used to be a cheechako but I'm not anymore. Can you guess what a Cheechako is?
If you would like to see some more pictures of me in Alaska, click on Alaska Pictures.
I did not grow up in Endicott. I grew up in Connecticut, and then I moved to Washington, D.C. to go to college. It was fun to drive by the White House all the time. I finished college in New Hampshire, and then I worked in a chemistry lab for a big company that makes medicine. It was fun to run experiments in the lab. If you would like to see pictures of me when I was growing up in Connecticut, click on Childhood Pictures.
I decided to change my career and become a teacher because teachers get to learn as much as students do, and learning is so much fun.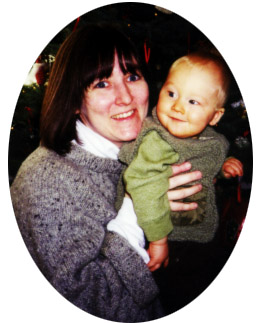 Learning something new is like being a detective, an investigator, an explorer, an inventor, a scientist, an author, or a mathematician. Another great thing about learning is that we can make lots of mistakes and not worry about them. Mistakes are great because they help us learn!
One of the reasons I wanted to come back from Alaska is that I wanted to live closer to my new nephew. His name is Daniel and he lives in Connecticut. I am also happy to be closer to my best friend. Her name is Mrs. Harvey and she has been my best friend since we met in sixth grade. She teaches third grade in Massachusetts and we will pen pal with her class this year!
One of my goals is to learn Swedish or Norwegian and teach for a year in Sweden or Norway. I want to do that because I am half Swedish and Norwegian, and I think it would be fun to see the country where my ancestors came from. We are going to be exploring lots of different countries this year.